Wednesday, 25 October 2017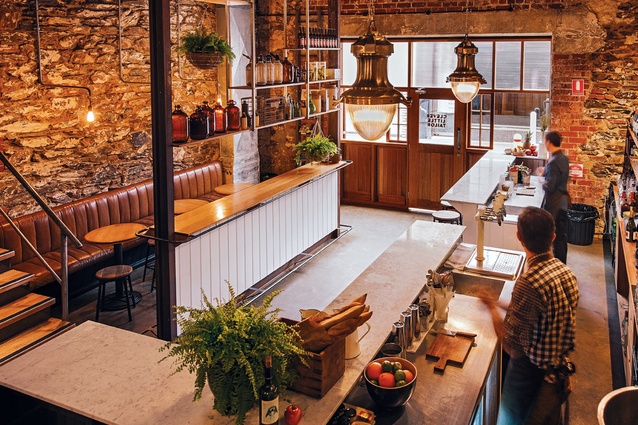 I've been living in Adelaide quite a while now, and although it's actually almost my time to leave again (in about a month or so), I would like to go over some of the bars that I really like or that I still would like to visit!
Clever Little Tailor
The first bar that caught my attention is Clever Little Tailor, at 19 Peel Street. It's actually a wine bar (I believe), but I went there a couple times for a beer. The atmosphere is really nice and cosy, and the bartenders are friendly and fun. Again, I do like the interior a lot; especially the brick walls make it homely. The beers are around $10 I think, which is of course not the cheapest - which. by the way, Australia isn't either. But, it's definitely a nice place to head to with friends.
Photo: architectureau.com
Maybe Mae
Another bar is Maybe Mae, which is such a cute cocktail bar that's actually a bit hidden. It's at 15 Peel Street, and when you stroll around in the street you can notice its sign. The bar is hidden in a cellar, which makes it more exclusive and fun. I absolutely love the interior of this bar; the dark green in combination with the wood makes is really fancy. It's a bit more pricy (the cocktails are around $16 each), but it's definitely worth going there!
Belgian Beer Cafe
I actually haven't had the chance to grab a beer here, but a friend and I walked past it last week. This Belgian Beer Cafe definitely reminds me of cafes in Europe, which - sometimes - I do kind of miss. It's at 27-29 Ebenezer Place, another part of the CBD. The atmosphere is really different from other Australian places, because it's of course more European-looking. If you miss Belgian beers, definitely check out this cafe. It's nice - kind of - be in Belgium for a night. The interior is just so cosy, and what I'm used to!
Photo: theaustralian.com.au
2KW
Unfortunately, I have not been to 2KW yet, but a friend of mine has and it looks absolutely lovely. 2KW is at 2 King William Street, pretty close to Peel Street. The bar is on a rooftop, which makes having drinks here much more exclusive and exciting. The bar is quite expensive, but before I leave Adelaide I would like to have drinks here, as it just looks amazing. Especially during sunset it must be a great experience.
Photo: 2kwbar.com.au
Botanic Bar
Last, but absolutely not least, is the Botanic Bar at 309 North Terrace. Again, I have not been here yet to enjoy some drinks, but I have had dinner at its restaurant called the Golden Boy. This restaurant was lovely, and the food was delicious - I paid $44 for a glass of wine and a green chicken curry dish, which is not too bad at all. I reckon the bar's ambiance is similar to the restaurant, which was pleasantly nice. If I have the chance, I'll stop by for a drink or two!
Photo: southaustralia.com